Play Expo Manchester
Wings of a Demon
This weekend marked Show Me Games' first time as a actual stand/stall/thing at a Play Expo. We had a few games for folk to play on along with a couple of challenges. The challenges being High Score on Donkey Kong Jr., and Fastest Time on F-Zero X Rainbow Road course.
Both of which ended up being won by our very own Liam Thornton. I think we will excuse ourselves from further competitions in future or just a separate list of scores/times for us.
Jack Taylor created a rather taxing level on Mario Maker, base around the words Show Me Games. Many attempted, and many did fail, the Mario Maker levels Jack produced attracted lots of passer by's. Who fell often at the first hurdle.
Their ended up being a few brave Mario champions that bested the fiendish level.
The first warrior that broke the back of the beast, was a small chap, who's dogged determination, got him through. Earning himself the accolade of being the first to tame the level, and also took home a Optimus Prime Loz Block Figure.
To top it off, it was also his birthday. He was over the moon with what he'd achieved. The young fellow would periodically come back to beat various other created levels during the day.
Tail of a Macaque
Our first time a Play Expo, and we got invited to part take in a Megacast by a nice chap called Shaun Holley, of the Ten Pence Arcade Podcast. The Podcast had various members of other UK based podcasts, folks from RGDS, Dreamcast Junkyard, Games you loved, Ten Pence Arcade, Maximum Power-Up and a few others I don't remember (Sorry!).
The Megacast (3), was a fun quiz covering consoles, Pc, and arcade throughout the ages. I was hoping we'd do better, but I feel we did alright.
Proving once and for all it's not what you know, it's who you know.
Spur of a Platypus
A stand out experience for myself was the HTC Vive, which had been set-up and shown off by GlasgowVR, and a very decent chap with a awesome first name. I got to finally try out room scale VR.
The first game/demo I tried was one set in Aperture Labs. Using the wands felt very natural, reaching for things in the virtual space felt great. In the demo, I had to reach for a pull down door handle, only for when the door open, to be greeted by Atlas from Portal 2.
After some playing around with a exploded Atlas, the floor gave way, and Glados arrived to give me some grief. It was a great introduction to room scale VR.
Everyone else had a play as well, Jack played a dual wielding shooty, dodge dodge game, Arriane and Liam both tried out the art package, and tried the Aperture Lab.
On the second day, I went back for another helping and the great folk at GlasgowVR allowed me to play again. This time I played a wave survival game. Armed with nothing but a flashlight and Beretta M92F, I had to fend off waves of zombies, twas rather bloody good. I could actually look down the iron sights for added accuracy.
Eye of a Beholder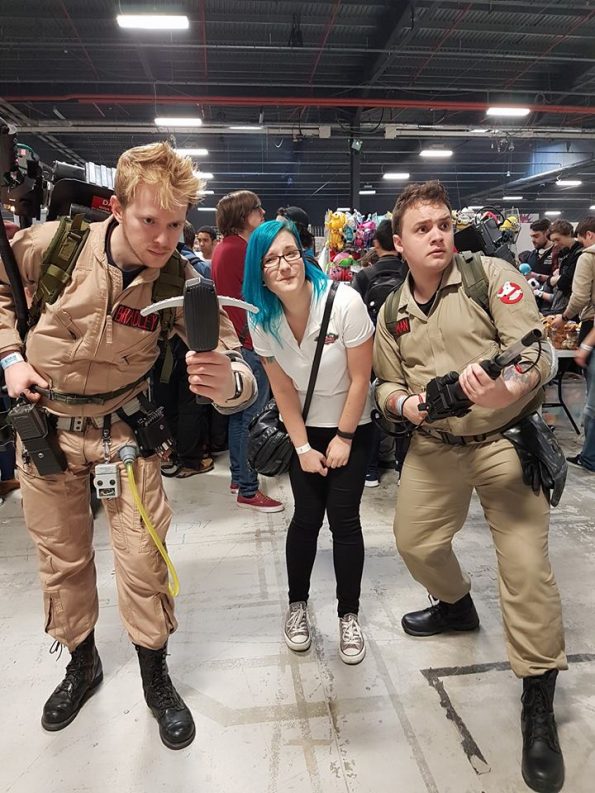 Now beside the plethora of games at Play Expo, there where some pretty darn cool cosplayers, bossing the hell out of costume playing!
Arriane, often squeaked with excitement as a Space Marine ambled around, or a Proton pack wearing Ghostbuster arrived on the scene.
Jack and Arriane watched the Cosplay Blind Date and Cosplay Competitions. I know not of these things, but have been told they were very amusing.
I think my favourite cosplay of all this weekend, has to be the family of Tomb Raiders. What a great idea.
I do have to mention, that there was a brilliant Mercy from Overwatch, along with a couple of great D'va's again from Overwatch (sorry for no pictures).
The Nipple of a Hughes
Last but certain not least Retro Games Party brought down a whole load of Arcade Cabs and Northern Lights Pinball brought machines for folk to get their grubby hands on. I do like the original battlezone, with the vector graphics. It's absolutely stunning, and a must play when ever I see it. The new version of Battlezone had it's own stand this time round, and I couldn't care less, I wanted the good ole fashioned vectored brilliance!
Some note worthy cabs were Power drift, Outrun and Afterburner. All of which cab had full motion hydraulic movement. Moving in conjunction with your controls, Power drift was particularly good, taking me a few mins after playing to get my legs back under me. Hat's off to the good folks at Retro Games Party. They've done an absolute stellar job at maintaining these machines, and keeping them up to snuff so fatties like me can climb all over them.
Again congrats to Northern Lights Pinball, not being very good at pinball my self, I don't normally last long. But some of these tables were beautiful to behold. The Game of Thrones table in particular caught Arriane and Jack's eye.
The Milk of Human Kindness
Overall I had a fantastic weekend, and hope to do it all again at the next Expo. Hopefully, the Play Expos become a regular haunt for the Show Me Games Crew and Community.
All of the parts above, made for a happy Aaron, an exhausted Aaron, a confused Aaron (what is the spur of a platypus?).
Thanks to all that turned out to show support.
For Adams thoughts on the event try this little video Ramble On…Ep 81
Bye
Comments